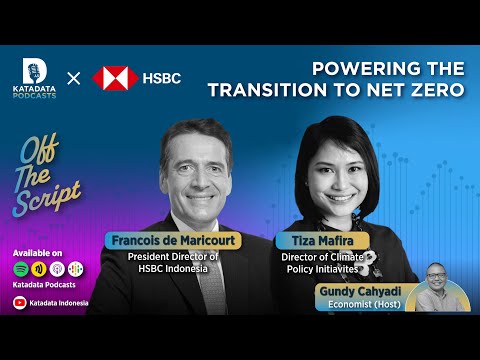 In this episode, Gundy Cahyadi has two special guests in the room, Francois de Maricourt, President Director of HSBC Indonesia, and Tiza Mafira, Director of Climate Policy Initiatives. Through different angles, both guests are actively involved in the process of finding a financial solution to Indonesia's transition to a net-zero economy.
While commitment to net-zero transmission looks strong from both the government and corporate Indonesia, there still seems to be relatively low investment from the private sector in Indonesia. This is one of the challenges that Indonesia faces especially since the amount of funds needed to achieve the country's carbon emission target is huge. Francois opined that Indonesia's hosting of the G-20 this year is an opportunity to collaborate with foreign stakeholders. And that financial institutions like HSBC can play a big role in the transition phase.
It is also interesting that green investment is catching up, especially among the younger generation in Indonesia. More clients in the banking sector are also increasingly looking at investment in green portfolios. Yet, the lack of green projects is still apparent. Information asymmetry might have hindered the creation of more green projects, especially at the municipality level in Indonesia. Again, this is where institutions with deep technical knowledge, like HSBC, can step in to help.
In conjunction with the HSBC Indonesia Summit 2022, #OffTheScript presents, "Powering The Transition to Net Zero".
You can listen to their discussion on Katadata Indonesia Youtube Channel:
#KatadataPodcast
official website: https://katadata.co.id/podcast/off-the-script
Spotify: https://open.spotify.com/show/47fOS2H0aQQ8W6j151mn05
Noice: https://open.spotify.com/show/47fOS2H0aQQ8W6j151mn05
Apple Podcast: https://podcasts.apple.com/us/podcast/katadata-podcasts/id1615357338
HSBC Indonesia also proudly presents the HSBC Summit 2022. This event will discuss policies, strategies, challenges, and solutions for the transition to a low-carbon economy, particularly in financing/investment.
Register now and get a chance to join this event virtually at https://grp.hsbc/summit2022

Go to Source
Author: Katadata Indonesia